Computer Aided Drafting has been an industry standard for designers and engineers for decades. AutoCAD is a familiar program that architects and drafters use to design blueprints for buildings.
You can learn to use AutoCAD as part of a structured design course, but you can also teach yourself.
Many online AutoCAD tutorials will walk you through a project from start to finish.Learn AutoCAD on your own by mastering the basic tools and understanding the interface and command line. Progress from simple projects to more complex ones to understand advanced skills. 
If you want to design objects meant to be assembled from accurate blueprints, then knowing a program like AutoCAD is a must.
While newer 3D design programs are available, AutoCAD remains the preferred software for engineers and designers.
Luckily, there are many ways to learn it.
Learn Autocad On Your Own
You will need the requisite software and access to online tutorials to learn AutoCAD on your own.
There are paid courses you can use to help guide you, and if you wish to have a certificate, you may want to look at suitable, recognized online software classes.
The AutoCAD site also has a certification exam you can take to earn an industry-validated certification that is valid for three years.
The exam is best taken once you have at least 1200 hours of AutoCad software experience doing real-world projects.
The exam takes approximately 120 minutes and currently costs $200, so if you feel that certification is necessary, you will need to accumulate many hours of work and projects beforehand to ensure you pass.
However, you can learn AutoCAD without paying for tutorials, and there are plenty of ways to gain the relevant experience necessary to pass an accredited examination.
-> Read Also What Is An Autodidact?
Buy Autocad To Learn On Your Own
You will need the AutoCAD software to work with, as you cannot simply learn by watching tutorials. Autodesk, the creator of AutoCAD, uses a subscription model for their software, so you may prefer to download the free trial of AutoCAD first.
AutoCAD's free trial lasts 30 days, which gives you enough time to work through beginner tutorials online before committing to a subscription.
AutoCAD subscription prices currently run at about $235 a month or via yearly or three-year subscriptions, which, while expensive, can save you money in the long run.
If you are a student (with proof that you are eligible), you can get free one-year educational access to AutoCAD.
Learn The Basic Interface And Tools In Autocad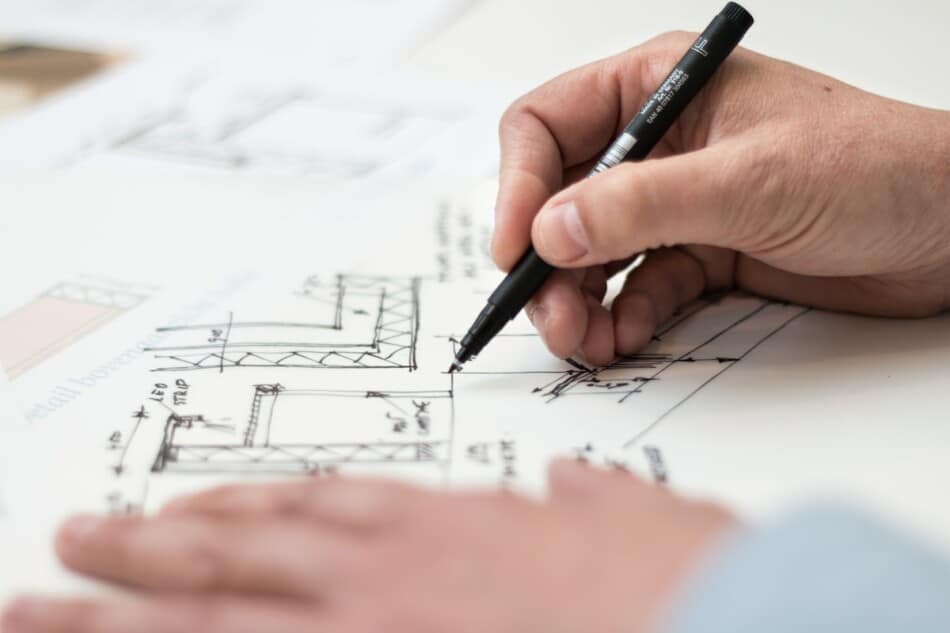 Once you have your version of AutoCAD installed, you will need to learn the layout and interface. 
You can begin to learn AutoCAD on your own with the community knowledge on the Autodesk site. Tutorials will guide you step-by-step through the basic skills you need to begin.
AutoCAD works most efficiently with templates, and you'll need to learn how to access templates and use the navigation and toolbars.
The ribbon above the drawing panel will have your tools for drawing and modifying elements in the drawing panel. Once familiar with the AutoCAD User Interface's basic tools and commands, you will learn to use layers and drafting aids. 
The tutorial videos here will give you an overview of the basic skills you'll need to create and modify 2D objects, create text and dimensions, plot a layout drawing, and control the display of Xref layer properties.
However, you will benefit from learning to use AutoCAD by working through beginner projects designed to teach you how to use AutoCAD effectively in a professional setting. This is where I find using Youtube extremely helpful.
Get Started By Launching A Template
When you first open AutoCAD, you will be presented with a screen that has a workspace and toolbars. The tools and ribbons will have drop-down menus. You'll see an option to get started on the main workspace window – Start Drawing.
From here, you can 
Open files
Open sheet sets
Get online templates
Explore sample drawings
There will also be a righthand panel showing you notifications, your cloud connection, and performance options. When you launch a template, a preview will open.
Using The Ribbon In Autocad
Once a template has been opened, the workspace will have a tool ribbon above it, where you find the home tab with the tools that allow you to create lines and shapes, add text, set dimensions, and work with layers.
The ribbon has other tabs such as Insert, Annotate, Parametric, View, Manage, Output, etc.
You can minimize the ribbon to icons and minimize further to names only, or completely hide the ribbon by using the small black arrow on white ground in the upper right corner of the ribbon tabs. Click it again to return the ribbon to its original settings.
You can also show additional tools by right-clicking the view panel and clicking and dragging to move panels around to suit your workflow.
Using The Default Workspace In Autocad
The default workspace in AutoCAD is the Drafting and Annotation workspace, which will show at the top of your ribbon. You can also switch to 3D Basics and 3D Modelling workspaces, which will change the ribbon to show tools for those workspaces.
In the top left corner of your screen, you can right-click the AutoCAD symbol to find all the shortcuts for commonly used commands like open, save, and export. 
The top box will allow you to search for additional commands. By searching for a command, you can find where it is on the ribbon. You can also activate and deactivate any quick access icons next to the symbol on the top of the ribbon.
Drawing Units In Autocad
Drawing units are an integral part of AutoCAD, and before beginning any new project, you must specify the drawing units.
At the bottom of your workspace is a command line: type 'un' and press enter, which will bring up your Drawing Units window.
You will be given the options of length, angle, units to scale, and units for lighting intensity. Under Length Type will be options for Decimal, Architectural, Engineering, Fractional and Scientific.
Once you've set your type, you can set the precision of your measurements. You can set your Anglet type, and as you change all these settings, your Sample Output box will change to reflect your settings.
You can select any measurement unit that you require for your project and select a lighting preference for when you render your drawing in 3D.
Pan And Zoom Commands In Autocad
AutoCAD's pan and zoom commands allow you to move around your drawing and zoom in or out.
You can access these pan and zoom commands by typing them in the command panel or using the middle wheel on your mouse to activate a hand tool on your drawing workspace. When held down, the middle button allows you to move the drawing about your screen.
By rotating your mouse wheel, you can zoom in and out of a specific point in your drawing.
Creating Lines In Autocad
Lines are the fundamental building blocks of drawings in AutoCAD. Use the line icon in the ribbon to draw lines, or type L and enter in the command line.
Draw a line by clicking on your start point and then the end point of where you want your line to go. Each additional click will create another line, allowing you to draw the desired shape. Press enter to end the line.
You can enter lines of specified unit lengths and directions using the command line.
Erase lines by right-clicking and selecting erase. Snap lines to coordinates by entering the coordinate values on the command line.
Enter specific angles on the command line using the < symbol in the command line and enter the angle degree (e.g., 45).
Creating Shapes In Autocad
As with lines, you can use the circle icon in the ribbon, or the command line, type Circle, and specify the radius or diameter units.
You can use points in the workspace to specify the size of the circle, using either two-point or three-point circles in the drop-down menu of the circle icon.
If you are working with tangents, you can create circles that are tangent to the lines you have already placed on the workspace.
The rectangle and polygon icons work similarly.
Selecting Objects In Autocad To Create Sets
You can group objects into sets by clicking and dragging to create a selection window. 
Clicking on the left and dragging right creates a window that will not include elements that are not entirely in the window. By clicking on the right and dragging left, the window will include all elements even if it does not fully enclose them.
Copy Items In Autocad
By selecting an object or line and using the copy icon in the ribbon, you can make multiple copies using an array in the command line.
Rotating Items In Autocad
It's easy to rotate an object in AutoCAD using the rotation command. You can also copy and rotate your selected object in the command line to specific degrees. You will need to set a rotation start point that will allow you to rotate the object from a specific point.
Scaling Items In Autocad
Once you have selected the multiple objects you want to scale, you can either use the scale icon in the ribbon and change the scale freehand or use Scale in the command line to increase or decrease the scale by a specific amount.
Creating Hatch In Autocad
By pressing the hatch icon in the ribbon, you will open up a temporary Hatch Ribbon; this allows you to create hatch patterns across a closed object (such as a circle or rectangle.)
Once you've selected the hatch style, you select the geometric object in your workspace. Once you have your chosen pattern, you can use the properties panel in the hatch ribbon to adjust the pattern.
You can also change between hatch patterns, solid color, and gradients.
Creating Text In Autocad
Add text to your drawing by using the Text drop-down menu in the ribbon, allowing you to select font, font styles, height, or create your set text style for a project.
The text Style box from the command line will allow you also to use effects such as writing the text backward or upside down. 
You can further set the width and angle of the font style.
Choose between a single line or multiline text in the drop-down menu of the Text icon, and select a start point on your workspace. Type the text you want, and double press enter to end the line.
Using Layers In Autocad
As your projects in AutoCad become more complex, layers will become very important to keep order. By grouping objects in classification layers, it becomes easier to work on separate objects, or by turning a layer on or off, you can hide or reveal objects while working.
Especially on complicated drawings, layers will make the workspace much easier to use.
You can create new layers by using the layer properties icon. The properties window will allow you to change the color of the layer objects, making it easier to see which objects are in which layer.
Use Youtube To Begin Learning Autocad
Many people have taken the time to upload tutorials for AutoCAD, ranging from complete beginner introductory videos to project walkthroughs.
While some of these videos are only available via subscriptions, you can still find loads of AutoCAD lessons for free on Youtube. An excellent place to start is SourceCAD's video tutorials.
They have a complete set of Beginner AutoCAD Tutorials available free on their Youtube Channel.
The beginner tutorials will introduce AutoCAD and show you how to use the workspace and the basic commands you'll need.
You'll learn how to make shapes, move and copying, rotating, scaling, object snapping, and other standard design tools.
Another Youtube Channel that will give you a solid introduction to AutoCAD is FreeCodeCamp. The beginner tutorial will teach you to use AutoCAD by guiding you through the process of creating architectural drawings for a small single-room cabin.
Gediminas Kirdeikis developed the AutoCAD for Beginners course for Lund University and is split into three parts.
The entire three-part course will take approximately six hours to work through.
The course also has a list of additional resources which are extremely useful.
Youtube Advanced Courses For Autocad
You will find more advanced projects and courses for AutoCAD on Youtube as you progress. Some may require a joining fee for complete access, but others are freely available.
Cad in Black has a Complete Tutorial For Intermediates which covers Organization, Layouts, Attributes, Palettes, and Object Properties.
As you improve at AutoCAD, you can find projects to complete — such as designing a 3 Pin A.C Plug –and build up your design portfolio.
With each project, you will become more familiar with the software, commands, and tricks that will make your workflow smoother and more professional.
-> Learn More about Self-Learning vs. Classroom Learning: Which Is Better?
Learn Autocad With Structured Online Courses
Massive Open Online Courses are a wonderful way to gain skills in university and college-level courses. While the accredited courses cost set amounts, you can usually audit classes for free.
When you audit a class, you will have access to all the course materials, but you will not be graded, and you won't be able to add a certificate to your resume or LinkedIn page.
Product Development Using Autocad (Coursera)
Coursera has a 1-hour long beginner course that guides you through creating a project from start to finish.
You will learn the basic skills of AutoCAD and how to use the tools to design a simple object. By learning to draw basic lines and shapes and how to modify them, you will understand AutoCAD's primary principles.
At the end of the project, you will use what you've learned to create a 2D spinner drawing.
Autocad 2021 Beginners Course (Skillshare)
Skillshare membership costs $36 a month, but you can work through 8 projects in the beginner-level course offered by Michael Freeman, who has over 25 years of experience in CAD engineering.
This course will teach you all the core skills you need for AutoCAD. 
This course is an excellent way to get up and running on AutoCAD with architectural projects.
Prepare For Certified Autocad Exams With Coursera (Advanced)
Coursera has an AutoCAD course that prepares advanced users of AutoCAD for taking the Autodesk Certified Professional Design and Drafting Exam.
This Advanced Level course takes approximately 18 hours to work through.
You will learn to:
draw and organize objects with advanced functions
use the User Coordinate System to draw accurately
create and manage layouts
Use annotation techniques
Use various AutoCAD techniques for improved efficiency
Disadvantages To Self-Learning Autocad
While you can work through online courses and tutorials, if you want recognized certification for your resume, you'll need to complete and pass an industry-validated exam.
Exams can be costly, but by working through many online projects beforehand and using a relevant preparatory course, you can ensure you pass effortlessly.
While there are jobs available for self-taught AutoCAD designers, most require oth$57,354er certifications and training.
Careers Using Autocad
| | |
| --- | --- |
| Careers using AutoCAD | Average Annual Salary |
| CAD Technician | $48,310 |
| CAD Drafter | $47,963 |
| Graphic Designer | $48,864 |
| Interior Designer | $57,354 |
| Architectural technologist | $61,609 |
-> Learn more about the 7 best websites for self-learning
Conclusion
Learning how to use AutoCAD on your own is possible by working your way through online tutorials.
By working through as many projects as possible, from simple to complex, you will build the minimum suggested 1200 hours of real-world AutoCAD skills needed to pass the exams.
Most jobs requiring AutoCAD will also need additional tech, design, and software skills, so ensure you have the correct set of required skills for your chosen career path.
References: