There are several reasons why sewing is a handy skill to have, such as fixing small holes in your clothes or even making your own Halloween costumes. Luckily, there are plenty of resources to help you learn, from books and videos to in-person classes; you won't have to look too hard.
Here's how to teach yourself to sew:
Consider the type of sewing projects you want to do.
Look for a good source of basic sewing instruction.
Check out YouTube videos.
Find books on sewing.
Look for in-person classes.
Decide whether you will sew by hand or with a sewing machine.
Choose sewing patterns to help with practice.
Read on to learn more about the different types of sewing instruction available and why you might want to try a combination of instruction styles. I'll also include some tips for beginning sewers that I haven't seen mentioned elsewhere. 
1. Consider the Type of Sewing Projects You Want To Do
The type of sewing instruction you should look for depends partly on the kind of sewing you want to do. 
For example, if you only need to fix a few holes in your favorite sweater or take up a pair of too-long pants, you just need to know the basics. 
But, if you're more interested in making one-of-a-kind curtains, pillows, or tablecloths, you'll need to go a little deeper into the practice. Then, you can start to express more of your family's tastes and personalities throughout your home.
Eventually, you could start making your own clothes and never again see someone else wearing the same ensemble. It's also easier to alter clothes you've made yourself than to change the clothes you buy. 
Learning to sew could give you a skill you could use to start a home-based business, such as: 
Make unique home decor items to sell online or from a booth at a craft show, fair, or festival. 
Start your own clothing or accessory line. 
Create clothing and accessories like beds for your pets or to sell to other pet owners. 
So, think about what you want to do and then look for the right learning style. For example, visual learners should seek videos from experts, and there is a large selection of illustrated learn-to-sew books that assists those who learn best by reading. Finally, those who learn best from personal instruction should look for local in-person classes.
2. Look for a Good Source of Basic Sewing Instruction
Good instructions start with basic information. For example, reading the back of a pattern envelope prompts discussions of fabrics, interfacing, thread, notions, and sewing terms.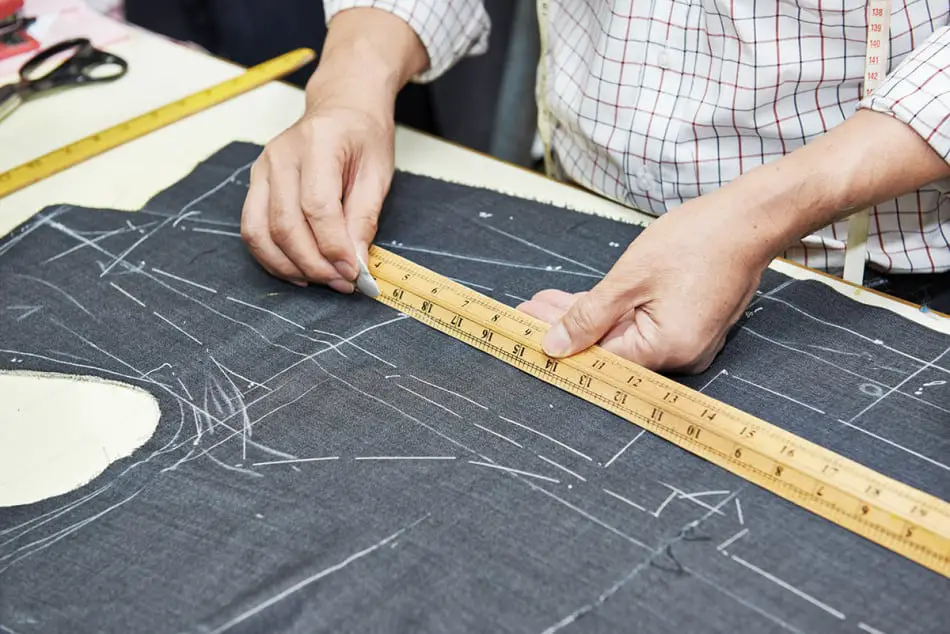 Initial lessons should include threading a machine, filling a bobbin, sewing machine settings, and machine and hand-sewing stitches. It should help you get a feel for the needle and allow you to get comfortable with it. 
What To Look For in Sewing Instructions
In addition to setting up a sewing machine, basic instructions might also discuss: 
The size of machine and hand-sewing needles to use with the different fabrics.
Which fabrics need to be pre-shrunk before starting a project.
How to make sure the grain of woven fabrics is straight.
What a "one-way" design is.
Why knits, corduroy, velvet, fake fur, and other plush fabrics are "nap" fabrics.
How to use the "with nap" and "without nap" yardage amounts on the back of the pattern envelope.
How to make sure stripes and plaids match up at the seams when laying the pattern on the fabric.
How to lay pattern pieces on fabrics with nap or one-way designs.
When to use sewing shears.
How to clip curved seams.
When to use jagged-toothed pinking shears to finish a seam.
The various ways to finish a seam.
If you're serious about learning, sewing.com offers a practical list of tools you'll need to get started. I'd add pinking shears and skip the glue unless you're sewing craft items.
I also would not use regular pencils or colored pencils to mark fabric because the marks might not wash out. 
Using Templates and Markings
Good sewing instructions might also explain how to follow guides for laying pattern pieces onto the fabric and how to transfer the markings you'll need to make your project from the pattern to the material. 
The instructions should discuss cutting around notches on the outer edge of a pattern and how to transfer other markings using: 
Tracing wheels and tracing paper
Tailor's chalk
Tailor's tacks
If you're learning to sew clothes, you should study how to take measurements to determine which size pattern you should buy. Sewing pattern sizes are not the same as the sizes of the clothing you buy in the store. 
Start With Something Simple
Whether you're making clothes or something for your home, the instructions should suggest a simple first project. For example, many recommend selecting a task that only requires sewing straight seams. 
On the other hand, templates with straight and curved lines are available online to help you learn how to guide your sewing machine as you stitch. This Sewing Template, Face Protector from Amazon.com, is straightforward and offers one straight line along with three easy curves.
You can also practice sewing on the pieces of scrap fabric left over after you cut out your project. So, why limit yourself to straight seams?
3. Check Out YouTube Videos
Videos are one of the best resources to use when learning to sew. Not only can you learn from experts, but you can actually see what they're doing in real-time. 
Video instructions also allow you to replay steps as often as needed, which can be helpful to anyone, especially those who learn best by observing a demonstration. 
Try to find out how much sewing experience and how much teaching experience the instructor has. Then, listen to a few videos from the same person to see if you can easily follow what they're saying and showing. 
For example, this YouTube video from Liesl Gibson entitled "How to Read a Sewing Pattern" covers everything I mentioned above about learning to read a pattern envelope: 
Liesl's videos are an excellent resource. She's a fashion designer who worked at Tommy Hilfiger and Ralph Lauren. She now designs sewing patterns for her own company, and her Lissette pattern line is carried in Jo-Ann Fabrics and Crafts stores.
If you can't find what you're looking for on YouTube, Udemy has a number of sewing courses available for purchase. What the preview and read the comments before making a purchase to see whether it covers everything you need.
4. Find Books on Sewing
If you learn best through reading, try to look for learn-to-sew books with plenty of diagrams and photographs. They should also offer a brief bio that reveals the author's expertise.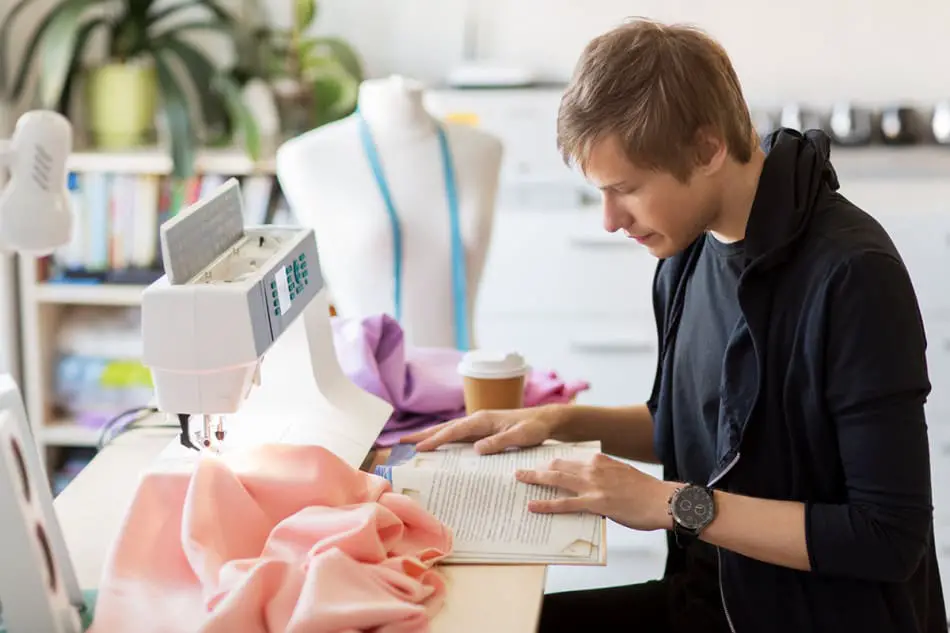 The book's organization should guide readers from basic information and techniques to more advanced topics, and the writing should be clear.
As with YouTube videos, you can go over instructions as often as you like and learn at your own pace. Plus, you can write your own comments in the margins. 
When a book explains a technique, the instructions should be presented in clear, separate steps. Sewing For Dummies, available on Amazon, offers the same quality and thorough coverage as other books in its parent series.
It covers: 
The tools you'll need. 
Fabrics and fibers. 
Hand sewing. 
Machine sewing. 
Sewing clothes. 
Sewing for the home. 
Mending.
5. Look for In-Person Classes
Some people learn better when they have an instructor and a classroom setting. That way, you can ask questions and have demonstrations in-person and up close. 
To find in-person sewing classes, search fabric and sewing machine stores. Local schools, colleges, and universities may also offer sewing classes under adult education programs. 
City and neighborhood community centers and your local YMCA or YWCA might also teach sewing.
Just as you should check out the background of someone who's created sewing videos or written a book, you should check out the sewing and teaching experience of the class instructor. Also, personality can become an issue in an in-person class. 
Questions to Ask About In-Person Instructors
Find people who have taken a class taught by the instructor and ask:
How knowledgeable is the person about sewing?
How skillful is the person at explaining sewing techniques?
How patient is the instructor about answering questions, especially with someone who is having trouble.
Is the instructor able to find several different ways to explain things? 
Did the instructor balance giving beginners the extra time and attention they needed without leaving those who have some knowledge to fend for themselves?
Questions to Ask About the Class
Before you pay for the class, find out if the class fee will be fully or partly refunded if you find after the first week or two that the instructor just can't explain things in a way that you understand. 
Alternatively, if another instructor teaches a sewing class, ask if your class fee can be applied to a class taught by the other instructor. 
Freelancers Versus Other Instructors
Some fabric and craft stores rent sales floor space to sewing machine manufacturers. In that case, the people selling the machines and teaching the classes are likely knowledgeable company representatives. 
The classes are usually for those who buy machines but may also be open to others in the hope of selling a machine. The instructions, however, are likely to focus more on teaching people how to use the sewing machine rather than teaching hand sewing. 
Sewing classes taught in fabric and craft stores might also be led by store employees or by freelance instructors. The fabric and craft store employees who help customers on the sales floor are often hired for their sewing and crafting knowledge. If those employees also teach the classes, you've found a valuable source of knowledge. 
In some cases, though, these classes are taught by freelancers. Freelance instructors might also teach continuing education classes. In addition, it's common for courses offered at the YMCA or YWCA, community centers, and other similar places to be led by freelancers. 
Freelancers, however, may have years of sewing experience. They may have clothing or home decor lines that they sell online or in some retail outlets. In addition, they may sell their products at juried arts and craft fairs. 
Unfortunately, they might not be as experienced as you need. Try to find people who have taken the class before and ask some questions before paying any money. 
6. Decide Whether You Will Sew by Hand or With a Sewing Machine
You'll complete most sewing projects faster if you learn to sew on a machine. However, you don't necessarily need an expensive one. 
Full-size, basic sewing machines usually come with: 
Stretch stitches for knits. 
A small assortment of practical and decorative zigzag stitches.
The ability to automatically make basic buttonholes of various lengths.
You don't need a serger sewing machine right away, either. But, on the other hand, maybe you won't need one at all. 
Again, if you just want to fix a few holes here and there, it's likely not worth spending money on a machine.
When to Invest in a Top-of-the-Line Sewing Machine
If you're an artist who embroiders designs on clothes, tote bags, or other projects you plan to sell, a sewing machine is an excellent investment. 
Look for one that embroiders designs from files created on your computer. These are automated and will work at the touch of a button. All you need to do is load the design and colors.  
Hand Sewing vs. Machine Sewing
If you're not mass-producing embroidered items for sale, you can transfer embroidery patterns to your fabric with a transfer pen and embroider them by hand or with a basic sewing machine. 
Speaking of hand embroidery, some types of sewing are best done by hand. 
I prefer to sew hems by hand because I can make them practically invisible by catching one or two threads. The same is true for other finishing steps. 
If you're sewing clothes, you do have a choice of sewing on buttons and putting hems in by machine or by hand. Likewise, some mending can be done by hand or machine, but some, like mending knits, is best done by hand. 
Hand-Sewn vs. Machine-Sewn Quilts and Bedspreads
You also have a choice of whether to sew quilts and bedspreads by hand or machine. However, if you choose to sew them on a machine to sell them, be sure to label them as "machine quilts.â€
Many people only want handmade quilts, and they inspect them for machine stitching. They will happily, even deliriously, pay more for handmade, though. 
My Recommendation
Invest in an inexpensive, full-size sewing machine. They're surprisingly affordable, and you'll have fun learning to use them. This Dechow Sewing Machine for Beginners from Amazon.com is lightweight and designed for beginners. It comes with 27 pieces, including 14 patterns and a two-speed foot pedal.
If you want more advanced features later, remember that sewing machines are long-term investments that can last for decades with proper care. On the other hand, if you want advanced features later, it's probably worth investing in a more expensive machine now. 
Make a list of what you want to sew, and stick to the features that will help you do it. Don't invest in features you'll never use.
7. Choose Sewing Patterns To Help With Practice
You don't necessarily need to start with the most straightforward patterns, but it helps if you're totally new to sewing. 
I strongly recommend that those who are just learning to sew stay with Simplicity and McCall's patterns while learning techniques and developing their skills. SewingIsCool.com also recommends Burda Style patterns.
On the difficulty hierarchy, I put Butterick next and Vogue at the peak. Vogue patterns, like Vogue magazine, are all about fashion, so they use advanced sewing techniques which may not be ideal for beginners.
If you look through the pattern books, however, you will see that most companies offer patterns for home decor items like pillows, placemats, table runners, tablecloths, and so on. None of these are difficult to sew, regardless of the company that created them. So, if you must sew Vogue, try those.
Final Thoughts
It doesn't matter whether you start with sewing, knitting, crochet, or embroidery; they are all addictive. The good news is that there is a ton of information available to help you learn. 
Start by learning the basics, like the types of stitches and how to set up a sewing machine. Then, find the right kind of learning that suits you. For example, if you're a visual learner, look for online videos and tutorials. If you prefer to see things close up, consider finding an in-person class.