Rated as one of the top image-editing softwares available in 2021, Adobe Photoshop continues to reign supreme, and for good reason. The program offers everything that you need to create or edit graphic art, digital paintings, web images, and more. There's a lot to learn, but the easiest way to learn how to use Photoshop is through self-teaching methods.
Here's how to self-teach Photoshop:
Familiarize yourself with the Photoshop workspace.
Experiment with the tools every day.
Watch video tutorials.
Follow Photoshop experts.
Practice, practice, practice!
Set goals for yourself.
Try micro-jobs.
While image-editing may sound simple enough, there's a lot that goes into it – and Adobe Photoshop requires a lot of practice and experimentation to get a handle on it. In this article, we'll cover the steps for self-teaching Photoshop so that you can master the basics and more. Read on to get started!
1. Familiarize Yourself With the Photoshop Program
Before jumping in and using Photoshop, it's essential to familiarize yourself with the program and its interface. The workspace is where you'll spend time using tools, trying out new functions, and experimenting with different features.
To start, get to know the menu. The menu at the top of the Photoshop workspace offers different tools, commands, and panels that allow you to edit, adjust, and tweak your work.
Let's take a look at the Adobe Photoshop Menu a little more in-depth.
Adobe Photoshop Menu
There are several menu options, and they may differ slightly depending on the version of Photoshop that you're using. Generally, you'll see the following options at the top of the Adobe Photoshop workspace: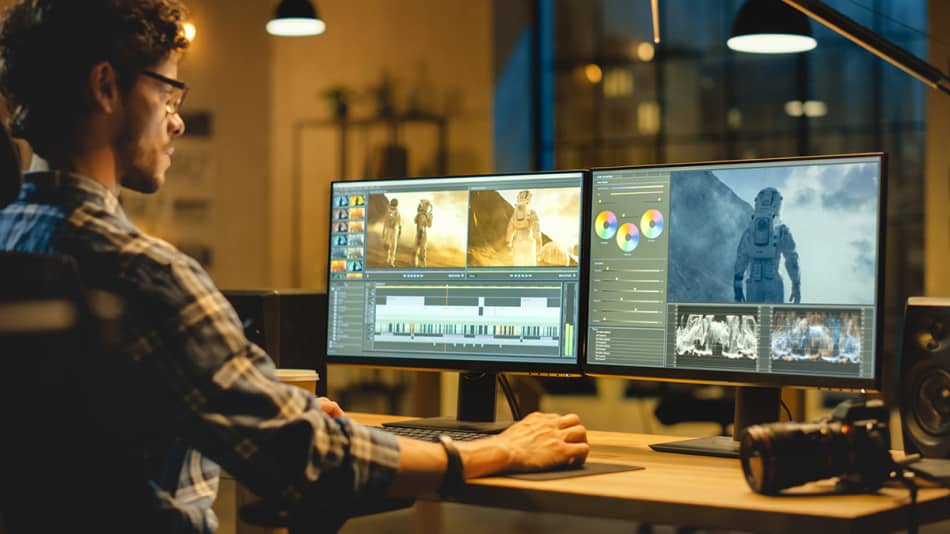 File
As with most programs, the File option allows you to make new files, open existing and recent files, save, and print. 
Additionally, you're able to open your work in other programs, save images for the web, turn videos into GIFs, and export files. For video editing, you can convert videos into frames, allowing you to edit each individual frame.
Edit
The Edit option provides you with tools to modify objects on the canvas, undo and redo recent actions, cut, copy, paste, add text, and fill selections. You can also rotate, scale, distort, flip, adjust the height, width, and orientation. 
The Preset Manager in this menu allows you to view brushes, gradients, swatches, and custom shapes. You can also load your own custom brushes here. 
Additionally, you can adjust Color Settings.
Image
There are dozens of options under this menu, including changing the mode of the canvas, adjusting brightness, contrast, levels, exposure, saturation, and so on. 
You'll also find the Photo Filter, Channel Mixer, and Color Lookup tools in this menu. 
Automatic adjustments can be made using Auto Tone, Auto Color, and Auto Contrast. Crop, trim and resize tools are also available under the Image menu, along with the Tool panel.
Layer
You're likely to spend a lot of time using the Layers section. This is where you'll create, copy, duplicate, delete, rename, and adjust different layers in your image. To make things easier, you can also hide, lock, rearrange, and merge individual layers.
Select
Here, you'll find options related to selections. You can select everything on the canvas, select certain layers, or deselect everything at once. Inverting the selection is another valuable tool to get to know. 
Additionally, you can adjust the border of a selection using the feather, contrast, and smooth options.
Filter
As with most image-editing applications, Adobe Photoshop has a section for filters. Here, you can view the Filter Gallery to view different filters, including the classic Artistic, Brushstroke, Distort, Sketch, and more. 
Additionally, you'll find blur, noise, render, and sharpen options here. You can also save and load your own custom filters.
3D
Older versions of Adobe Photoshop do not contain the 3D menu. However, in newer versions, you can use this menu to create and edit 3D objects for modeling and 3D printing purposes. Here you can modify 3D and create 3D files.
View
The View option changes how you see things in Photoshop. You can utilize a ruler, grid, create guides, or even switch to full-screen mode for easier editing. Some common options include zooming in and out of the canvas or fitting it to the screen size.
You can also view the print and actual pixel size. Other options include target paths, notes, edges, brush previews, and more.
Window
This section allows you to rearrange the workspace however you prefer and hide windows to prevent things from getting cluttered. Those windows may also be dragged and dropped anywhere on the screen, as well as outside of the Photoshop window. 
Help
The Help menu is pretty self-explanatory. Here you can find out which version of Photoshop you're using, find resources for help, access Photoshop support, register your program, and more.
Adobe Photoshop Panels
Once you've familiarized yourself with the Adobe Photoshop menu, take a look at the interface as a whole. In the center, you have your canvas – this is where you draw, edit, and open your images. Next, take a look at some of the panels.
Tools
When you first open Photoshop, you'll see the tools for editing images and creating artwork. They're usually located on the left side, although the panel may be moved.
There are often multiple tools in one section – you can view the "hidden" tools if you see a small triangle at the bottom right of the square. Just click and hold to see any additional tools.
We'll discuss tools more in-depth in step two.
Other Panels
Some of the panels on the right side include:
Colors: Within this panel, you'll find the options for changing the foreground and background colors. These may be adjusted using the sliders.
Swatches: Here, you can find the colors you use most often and different preset color swatches. Additionally, you may add and delete colors from existing swatches or view various color schemes for other projects.
Layers: Layers allow you to organize parts of a project in a way that prevents you from destroying the original image. You can also move layers to different positions or change the opacity to make images see-through or transparent. Transparent layers allow you to see through them to the layer below or above.
Properties: This panel shows controls, options, and other features for whatever layer is selected in the Layers panel. Depending on what layer you're working with, the options may change.
Important Commands in Adobe Photoshop
Before moving onto tools in the next section, it's important to understand a few basic commands and keyboard shortcuts that will help you as you're creating images or editing photos.
Some of those commands include:
CTRL+Z (Command+Z in macOS): This will undo any edits or changes you've made to the image. You can press it multiple times to undo several actions or just once to undo a single action. Alternatively, you can press Edit > Undo.
CTRL+Y (Command+Y in macOS): If you need to redo an action, you can use this shortcut. Again, you can press it multiple times to redo several actions or just once to redo a single action. Alternatively, you can click Edit > Redo.
CTRL+C (Command+C in macOS): Copy any selection. You may also access this command in Edit > Copy.
CTRL+V (Command+V in macOS): Paste any copied selection. You can access this command in Edit > Paste.
To save your file, select File > Save > Save As. From there, you can name your file and change the format. When saving an image that you're still working on, you should save it in Photoshop format (.psd). This ensures that the layers and other Photoshop properties remain intact.
When you're ready to share an image or use it on the web, you'll want to save it as a JPEG (.jpg) or a PNG (.png) file – just remember to keep the original PSD file as well!
For additional information for Adobe Photoshop novices, check out Adobe's brief tutorial that shows you around the space.
2. Experiment With Tools Every Day
Once you're familiar with Photoshop's basic menu and functions, it's time to start experimenting with the tools.
Tools are an essential part of Photoshop's interface – they're where the magic happens! These tools allow you to create and modify different artworks. While it sounds simple enough, there are over 60 tools that allow you to perform different actions.
You can find the tools by locating the Tools panel. Unless you have switched things around, the panel should be located on the left of the Photoshop interface. Some tools have a small arrow in the bottom corner. This means that there are "hidden" tools, and you need to expand the menu to see other options.
The Tools panel includes the following groups of tools:
Selection: Selection tools allow you to move and select images. Tools here include Rectangular Select, Elliptical Select, Lasso Marquee, Quick Selection, and Magic Wand.
Crop and Slice: Crop tools allow you to "cut" out different parts of the image. Perspective crop straightens images that are slanted or distorted. Slice tools are mainly used in web design to divide an image into smaller pieces. They're then reassembled using web code.
Measuring: Here, you'll find the eyedropper to sample different colors in an image, a ruler, notes, and more.
Retouching: If you're retouching images, you'll use these tools a lot. They contain the Spot Healing Brush, Healing Brush, Patch, Red Eye, Clone Stamp, Eraser, and more.
Painting: This is where you'll find brushes, pencils, gradients, paint buckets, and more.
Drawing/Typing: Here, you'll find the Pen, Freeform Pen, Anchor Points, Path Selection, and Shape tools.
Navigation: These basic tools allow you to zoom in and out, pan around an image, and rotate your view.
With so many tools, how are you going to learn them all?
The best course of action is to experiment with one tool at a time. Take some time with it to get an idea of what the tool is and how it works.
Learning a new skill is intimidating – by working on each tool individually, you're less likely to feel overwhelmed, and it's the best way to memorize the placement of each tool.
Start with a basic tool, such as the Selection tool. Use a tutorial on YouTube to show how the tool is used in everyday applications. Additionally, hover over the tool to view the Rich Tooltips – these will give you a good starting point of what the tool is and what it's used for.
You can also search within the Photoshop program to find relevant links to more information on that particular tool.
Create a Photoshop Learning Schedule
Don't try to learn every tool within a week or so. There are thousands of functions, features, tools, menus, and more to learn in Photoshop – learning it all takes time. It's best to set a simple schedule for yourself and follow it.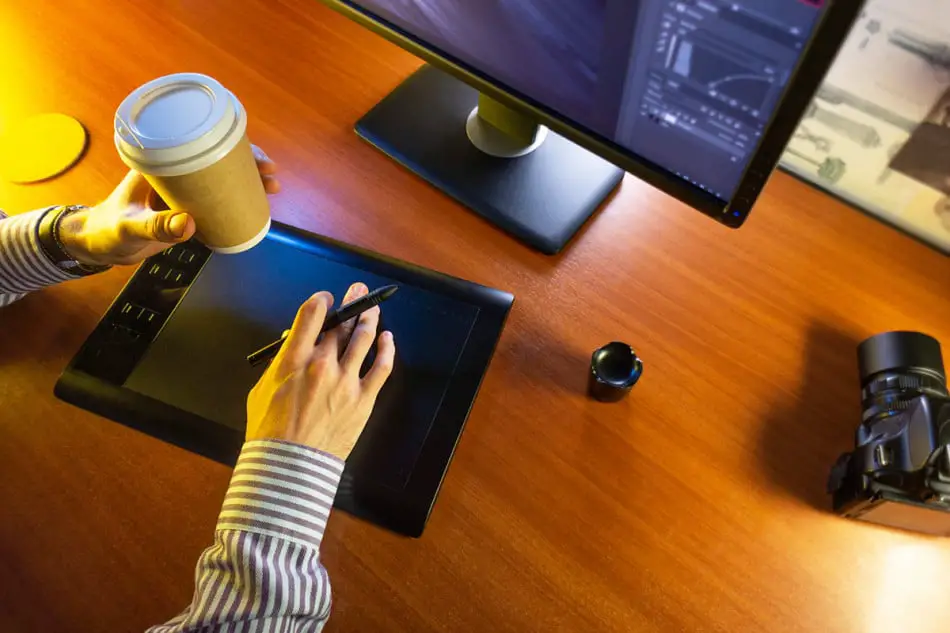 If you're competitive, maybe set a 30-Day Challenge to keep yourself motivated. Here's a sample three-day schedule:
Day
Tool/Feature/Function
Task
1
Selection Tool
Read two articles about the Selection tool.

Watch two videos about the Selection tool.

Spend one hour using the tool on your own.

Experiment with the Selection tool using what you learned in the articles and videos.
2
Crop
Read two articles about the Crop tool.

Watch two videos about the Crop tool.

Spend an hour trimming, straightening, or changing the perspective of images.

Use what you learned in the videos and articles to try new tricks.
3
Pen
Read two articles about the Pen tool.

Watch two videos about the Pen tool.

Spend an hour using the Pen tool, creating basic shapes, or just "messing around."

Use the information you learned to create a basic drawing (such as a smiley face or pyramid).
3. Watch Video Tutorials
As you're getting a feel for Photoshop and all that it has to offer, spend some time watching video tutorials. This is especially important while you're practicing with the different tools – if you're not sure what you're doing with a specific tool, a video can help you get a handle on things pretty quickly.
YouTube is a goldmine of Adobe Photoshop information – you can find information, step-by-step tutorials, tips and tricks, and much, much more.
Photoshop Essentials, a website based on Photoshop tutorials, has dozens of YouTube videos and PDF downloads available on their website.
If you want tips straight from the horse's mouth, Photoshop offers dozens of free tutorials on their website, ranging from beginner tips to more advanced techniques.
4. Follow Photoshop Experts
Throughout your Photoshop mastery journey, you'll want to connect with like-minded individuals and get a feel for what the experts are doing. This can motivate you and give you a good idea of some things you'll want to try in the future.
For example, if you want to learn digital painting, follow digital artists on Instagram, DeviantArt, Facebook, or Twitter. Even if you never actually speak to these Photoshop artists, you'll be able to view their work. As an added bonus, some offer brief tutorials to help aspiring artists.
Some Photoshop experts even offer training courses! There are paid training courses and "boot camps" available on several websites, including Udemy and SkillShare – some websites even offer a few free tutorials.
Instructor-led courses may be found on Lynda.com or PluralSight. 
5. Practice, Practice, Practice!
The most important step to learning Photoshop is to practice consistently. 
If you practice your skills once a month, you're not going to master Photoshop quickly. Keep a regular schedule and stick with it. By working with one tool a day, several times a week, you'll have the basics down in no time.
To ensure that you're retaining as much information as possible, you can test your Photoshop knowledge as you learn. GCFGlobal offers a Photoshop Basics Quiz to see how much of the Photoshop basics you know.
I highly recommend practicing for at least an hour a day, three times a week. Of course, it's best to practice more, but you don't want to become burnt out – that could lead you to abandon the self-teaching process altogether.
6. Set Goals for Yourself
Keep things interesting by setting goals and trying to crush them. Challenging yourself helps you retain what you've learned and get better. Your goals can be simple or complex – it depends on what you know or what you think you can handle.
Here are a few basic challenges that you can try:
Crop and resize four images.
Create an art project that has multiple layers.
Design an elliptical shape with a gradient background.
The above tasks are pretty basic. If you want something more challenging, try one of the following:
Remove the background from an image.
Change hair colors on a photograph.
Remove blemishes from a face.
Create a banner image for a hypothetical website.
You can even pick a few tutorials and attempt to duplicate them. After you've mastered one tutorial, try implementing your own creativity into the process. 
As you learn, you'll become more confident with your skills, and you can increase the complexity of your goals.
7. Try Micro-Jobs
After at least a few months of practicing your Photoshop skills, consider taking your skills to the next level by participating in volunteer-based micro-jobs. These jobs may not be paid, but completing them for free will help you build a portfolio. You'll also get a practical idea of your skills and understand what people want. 
Once you've mastered your skills, you may be able to offer your services for a fee through websites like Fiverr or DesignCrowd.
Start with simple requests from friends or family – restore damaged photos, edit a portrait to remove blemishes, remove a background image, adjust the colors/tones/saturation of an image to make it look better, combine multiple images into one, etc.
All of these simple jobs can help you determine your skill level and see if your friends and family are satisfied with your work. Be sure to ask for honest feedback and constructive criticism.
Conclusion
Self-teaching Photoshop allows you to immerse yourself in the program fully. Familiarizing yourself with the program, experimenting with tools, watching video tutorials, and reading articles will help you along in your journey. Over time, you'll be creating or editing images with ease – and who knows? In the future, you might even be able to start your own Photoshop course!