Learning skills is easier than ever in modern times. Really, all it takes is some time, an internet connection, and the right tools. 
Some skills will take longer to learn than others but practice while learning tips from YouTube videos is how many people acquire new skills!
Working on the eyes is a daunting task, and you might be worried that you would never be able to do something like that yourself, but we'll see in this article that it is possible to teach yourself this skill.
Over time, you can teach yourself to be an eyelash technician. If you want to do so, you will want to:
Have patience
Practice often
Watch videos/ take classes
Obtain proper certification
In this article, you will learn what it takes to teach yourself how to become an eyelash technician.
Do not expect to become an expert and make thousands of dollars right away.
It will take time to not only learn the craft but to grow your client list.
Read on to learn more!
Can I Teach Myself to Become an Eyelash Technician? 
Beauty is huge these days, and pretty eyelashes are in, so there are good opportunities to make a living in this industry.
But you might be wondering: can I teach myself to be an eyelash technician?
You can teach yourself to be an eyelash technician. The techniques and skill itself can be mastered at home with YouTube videos or online courses. However, if you want to be a practicing lash technician, you will have to obtain a certification. 
You can learn a lot from YouTube videos where eyelash technicians share their skills and top tips.
Check out this tutorial, for example, from Eyelash Extensions 101, which covers a full tutorial on application eyelashes.
Alongside learning from others online, you can learn alot from simply applying these lessons and learning through practice (see below for more info on this)
Certification simply lets everyone – both potential clients and potential employers – know that your practices are sanitary and safe.
If you don't obtain a certification, you can still do your own lashes and your friends and family, but you might run into serious trouble if you start running a business doing it without the certification that your state law says you need to have.
-> Read Also What Is An Autodidact?
Spend Money on Better Equipment to Practice With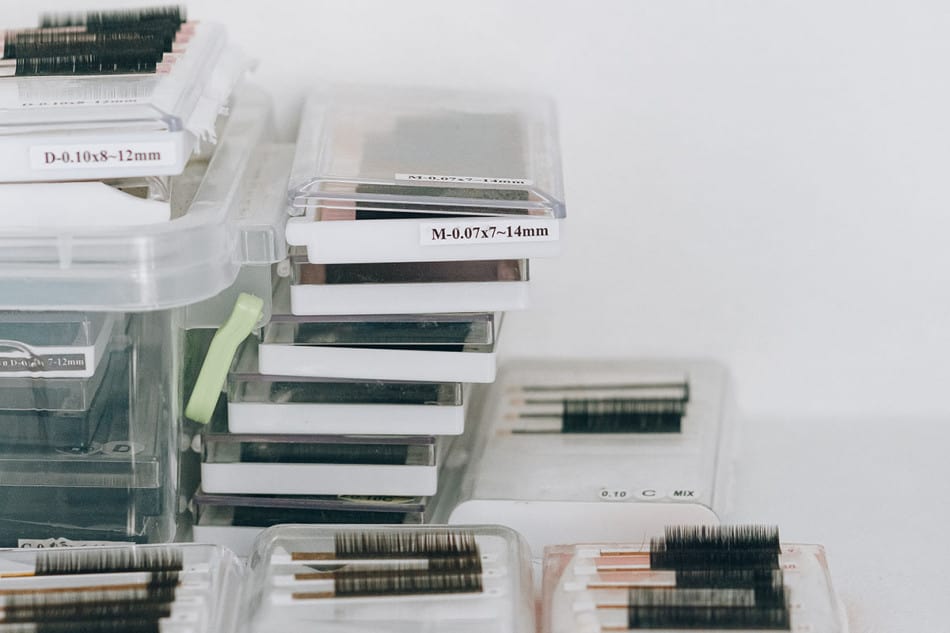 When you are diving into the world of eyelash technicians, it is important to have the proper tools to be able to practice.
It may turn out it is not right for you, or you may fall in love with the job.
There are Lash Extension Kits that come with all of the supplies needed to start practicing.
The kits come with a mannequin head to practice on. While some choose to practice on themselves, it is much easier to practice on something not living. 
If you use the mannequin head, you can mess up 1,000 times without any consequences. Kits are a very inexpensive way to become great at your new skill.
If you decide to teach yourself to become an eyelash technician, keep in mind that you should keep your supplies fairly limited at first. 
Don't go sinking hundreds into supplies. Try it out and see if you like it, if it's something you really want to get into, or one of those things you decided to do at 4 am just because.
Becoming an Eyelash Technician Takes Time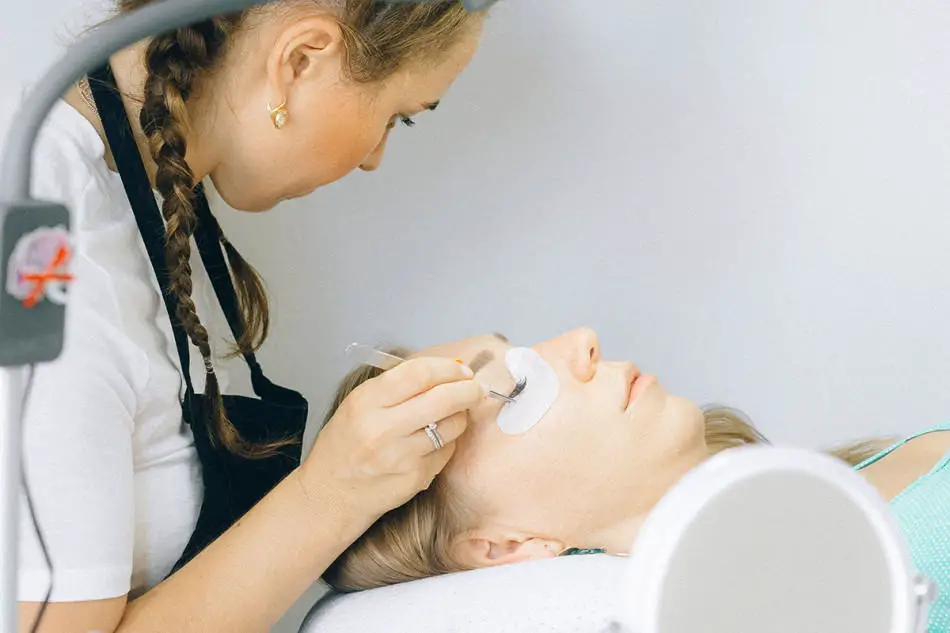 When you are first starting as an eyelash technician, you will likely practice for hours at a time.
It is important to keep in mind that it will not click overnight, at least for most people.
The more you practice, the easier it will become for those movements and techniques to become second nature.
There are a few skills you need to perfect before testing on yourself or a friend, which are:
Applying eye pads correctly without irritating your client's eyes
Applying products without getting anything in your client's eyes
How to apply eyelashes
How to separate eyelashes
Knowing how to do different looks to give your client what they want
Practicing not using a lot of product, to lower the risk of injury
Sanitizing the work area 
The proper ways to clean the client's eye after you've finished
It is especially important to practice as much as possible before working on a person. You do not want to glue someone's eyes shut or cause permanent damage. 
Working with eyelash extensions is not to be taken lightly. Severe damage can be done by someone careless.
Take Courses to Better Your Skills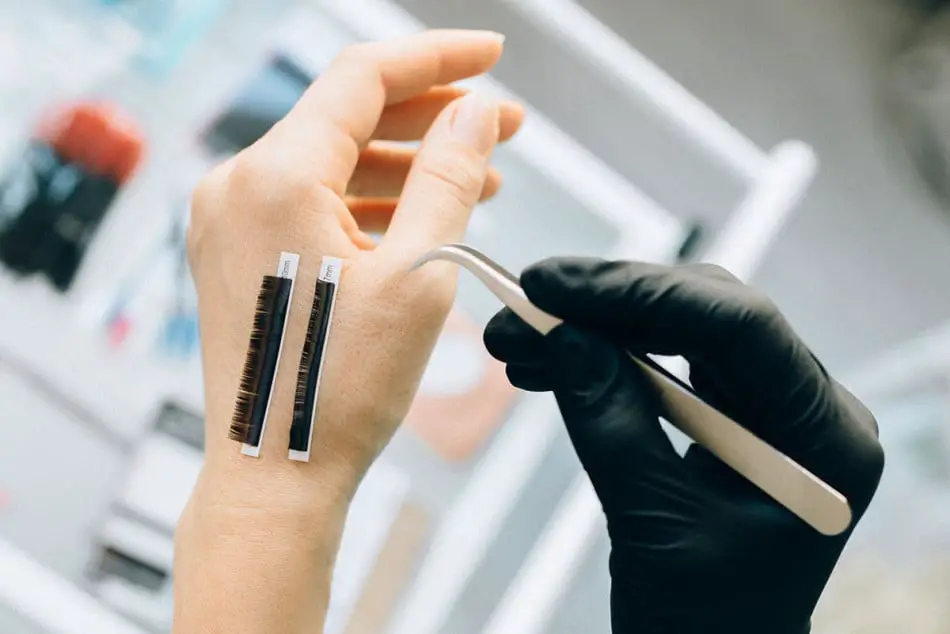 There are courses that you can take online and locally to help hone your new skill. You might be able to talk to local eyelash technicians to study under them (without practicing on clients). 
If you want to become licensed, you will need to go to beauty school (in some states) before taking a test to become certified.
-> Learn More about Self-Learning vs. Classroom Learning: Which Is Better?
Check Your State Requirements for Eyelash Technicians
Before starting work on paying clients, you need to check your state's laws. Some states require those that want to perform eyelash technicians to be licensed, while others do not. 
This is not something that you want to mess around with. If you have paying clients that you are working on without a license, you can get in a world of trouble. 
Get Certified as an Eyelash Technician to Save Yourself & Get More Customers
Whether you need to get certified or not, it can help to save you from any issues that may come about.
If, by some unfortunate chance, you injure a client, being certified can help keep you out of trouble. 
It can also help you to gain more clients. If they see that you are certified, they will have a higher degree of confidence to let you work on their eyelashes.
Enjoy the Business That All Your Hard Work Created
Growing your business is the most exciting part of it all, and it is when your demanding work comes together. You will be able to:
Grow your client base
Rent a space at a local salon
Work from home if you have the space
Do something that you love
Work for yourself and set your hours
After working hard to perfect your skill, it is a great feeling to be able to own your own business!
Depending on your state laws you may be able to get started practicing from home whilst you build up your client base and start to generate some good word of mouth.
Then, when the time comes you can start to look for a premises to rent and take your lash technician business to the next level.
-> Learn more about the 7 best websites for self-learning
Teaching Yourself to Become an Eyelash Technician: Final Thoughts
Over time you can easily teach yourself to be a great eyelash technician. You will need to practice as often as you can with your kit and then eventually try it on yourself or a willing friend. 
If you find you really enjoy the work and you have taught yourself the basics, then you should consider getting certified and turning your skills into a thriving self-employed business.
Always make sure to have clients sign a contract to save yourself from any trouble and you will be set to give every client better, beautiful eyelashes.