Does finding and fixing car faults fascinate you? Do you want to take your love for cars a step further?
Then, becoming a mechanic would benefit you. On the other hand, can you teach yourself to be one?
Read on to find out!
As a hobby, you can teach yourself to be a mechanic, but not professionally. You may learn basic auto-repair skills like changing tires and oils by watching videos, reading books, and tinkering with your car. However, you'd need training, experience, and certifications from industry experts to become a professional mechanic.
While there are various ways you can learn auto mechanics, you need to consider whether you want to go pro or keep it a hobby.
Therefore, consider the following if you want to teach yourself, auto mechanics.
How to Learn to Fix Your Car on Your Own
If you are fascinated with car repairs and want to learn them as a hobby, you can teach yourself.
Reading good books and watching tutorials can teach you basic troubleshooting.
While self-learning may not make you a professional mechanic, acquiring basic mechanic skills is a great way to save money and avoid expensive repairs on your vehicle. 
You can begin by doing simple maintenance like changing oils, air filters, and windshield wipers and progress into more complex repairs.
Several resources are available, including YouTube, Online Video Tutorials, Forums, and Books.
These resources will provide you with the necessary information on basic car repairs that you can utilize.
-> Read Also What Is An Autodidact?
Read Auto Mechanic Books, Manuals, and Journals
Reading auto mechanics books is a simple way to pick up one tip or two about car repairs. You can learn to change spark plugs, air filters, fluids, and tires and handle other common faults. Here are some of these books:
You can study any of these or in combination with your vehicle's repair manual. That way, you'd be sure of the information you're learning and how it applies.
Read Online Articles and Visit Forums
Tons of online articles and forums that offer information on specific car problems or repairs, from "how to add and change coolant", "What to do in case of overheating?", to "how to fix a car engine".
A search on these queries and more would lead to several sites that detail the processes involved step-wise.
Several of these websites even feature pictures that provide more detailed descriptions.
However, you have to be careful because some of these resources may be outdated or not meant for the type of model you're working on.
Cross-check your information across multiple sites before laying a wrench on your car.
Watch YouTube Video Tutorials
YouTube is your best bet for quality information on "how to" queries. While an article might tell you all the details, a video will show you how.
Also, you'd want to do diligence here, as with the books and online articles. Auto repair is not a "one shoe fits all" procedure.
Ensure the video's content is similar to your real-life situation, i.e., the car's features are identical and the type of repair you require.
Here is a list of useful links we recommend you checkout:
Invest in Quality Tools
For you to hone your skills, you'd need gadgets. Some equipment and tech you need are
Dismantle and Rebuild Junk/Project cars
In an old-fashioned way, you can take apart the various components of a car and try coupling them back.
While you may not want to do this on your car for reasons such as safety, you can work on an old beater car.
These project cars can be from eBay, Craigslist, or similar websites.
Join Clubs and Societies
Joining groups of persons with similar interests will expand your knowledge, hone your skills, and keep your fire burning. You can also share resources within your networks.
Who knows, a problem you have might have been resolved by a fellow enthusiast.
Also, you can look for auto seminars and auctions around you. There is tons of valuable information to gain from such events, whether online or physically.
Risks Associated with Self-Learning Auto-Repair
Here is a list of reasons why learning auto-repair yourself might be a bad idea
Limited Knowledge
While you can learn a tremendous amount of auto mechanics by yourself, your knowledge will still feature a lot of stopgaps.
These stopgaps will reduce your ability to properly diagnose and fix car faults.
Misdiagnosis always translates into bad car jobs and furious clients
Liability Risk
Until you fully understand auto repair, it is best to avoid working on cars for safety and legal reasons.
Formal training and credentials certify you to be an auto repair expert in the eyes of the law. Lack of education or credible certifications puts not only you at risk.
Any establishment you work for is affected, as well as clients whose car you fix.
Getting a job in the first place will be difficult. These days, no one wants to hire a potential liability.
You can get sued if there is any incident of a wrong diagnosis and/or a bad repair job.
Extra Costs
Most experts advise that you should avoid tinkering with your car unless you are sure you understand what you are doing.
Some automotive repairs are delicate; any wrong attempt will only cause further damage and extra costs. 
-> Learn More about Self-Learning vs. Classroom Learning: Which Is Better?
How to Become a Professional Mechanic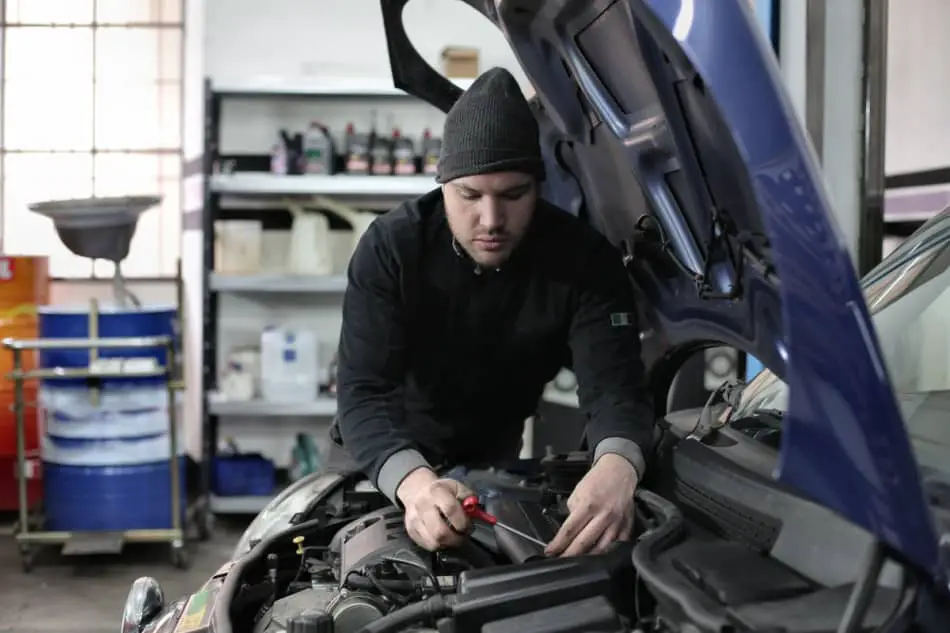 Suppose you are interested in becoming a mechanic, not just a part changer or tinkerer. In that case, you need to train at a school or as an apprentice to an experienced auto mechanic.
You can't YouTube your way into skills and knowledge gotten from years of training and experience.
To be a mechanic, you need to know beyond the vehicle's parts. An automobile has systems; whose parts work together in harmony. 
A mechanic understands how all aspects of a vehicle function together and how to diagnose and fix faults. They also know what gadgets to use and when
Some twenty or thirty years ago, self-learning to be a mechanic could have worked because automobile systems weren't as sophisticated and complicated as their contemporary counterparts.
Cars have evolved from plain, mechanically controlled to electronically controlled and metered fuel delivery systems.
Suppose you are looking to become a professional mechanic. In that case, you will need more than mechanical skills to work.
Becoming competent and successful in this business involves jobs on a broad spectrum of cars that you'd not be able to avoid.
Get Training
There are several ways to train and gain proficiency in this field. You can either go to college, mechanic and vocational schools, apprentice or combine.
1. Apprenticeship
An apprenticeship is one way to learn car mechanics procedures. You can still gain experience and training if you cannot afford a college degree.
Here, you are under the tutelage and guidance of a seasoned mechanic for six months to a year.
As an apprentice, you'd be working alongside a seasoned mechanic, watching his every move and how he studies and diagnoses all of the different problems he presents.
By doing this, you will pick up the flow of diagnosis, which is pretty similar to most vehicles.
2. Automotive Training
Most auto repair shops, dealerships, and manufacturers provide training programs for aspiring mechanics. You can also study auto mechanics at a community college.
You earn an associate's degree or certificates from training like these, which add credibility to your expertise.
3. Seminars and Trade schools
After completing your training and as you build a career as a mechanic, continuing your education is essential.
You can attend symposiums, conferences, or short training courses at trade school to keep well-informed about technology and accelerate your growth.
You can also learn a great deal by networking, at school, and on the job.
You can get references, learn about job openings, or even expand your knowledge by connecting with other instructors, students, and colleagues.
Get Experience
If you followed the apprenticed route, you would gain great experience during your training. It is a form of hands-on training under the supervision of your teacher.
Suppose you are enrolled at a school or community college. In that case, you can also consider an internship at a professional mechanic shop.
By combining your classes with an apprenticeship, you gain real-world experience through an on-the-job training
Get Certified
While certification may not be a requirement in the field, it is necessary for growth.
A certification from the National Institute for Automotive Service Excellence (ASE), for example, improves your employment prospects and chances at promotion.
The ASE entry-level certification has about eight specialties. You can become certified in all eight.
Within a year or two of work experience, depending on your training route, you are eligible to take more licensure examinations.
After becoming certified, you need to maintain it every five years.
The higher your qualifications, the higher your chances of promotion and remunerations.
-> Learn more about the 7 best websites for self-learning
Frequently Asked Questions
Q: Can You Teach Yourself to Fix Your Car?
Yes, you can. All you need to do is get a repair manual and set of tools, watch YouTube videos and study auto repair books. Then, build your skills by practicing on an old beater or a project car.
With these, you'd be able to handle issues like oil and tire replacement, overheating, weird smells or noises, and other minor problems. 
Q: Can You Learn Auto Mechanics Online?
An online course would expose you to the basics, but at an automotive school or college, you'd learn the principles of auto mechanics. Also, you need hands-on training, which you can learn as an intern or an apprentice. 
Q: Do you Need Certifications to be a Mechanic?
In the industry, certifications are not necessary but having one improves your employment prospects and accelerates career growth.
Final Thoughts
Learning auto mechanics procedures can be achieved in many ways. If you want to learn auto repair as a hobby, online tutorials, YouTube videos, and other resources can provide you with the necessary information. 
However, if you want to build a mechanic career, you should follow the training and certification route.
You can go to a mechanic school, become apprenticed or do both. Also, you'd need to attend seminars and symposiums regularly to keep up with the latest in your industry.
Whichever route you follow, good luck to you.
References