Nail technicians have a rising demand as more individuals seek proper nail care and grooming.
With new technology, tools, and techniques in the industry, it comes as no surprise that training and courses for becoming a nail tech have become more expensive.
So, can you teach yourself to be a nail technician?
Yes, you can teach yourself the basics of how to be a nail technician through self learning and practice. You can improve your skills further by learning about the nail art industry, building a professional connection, developing higher-level skills, and starting to work as a nail technician.
As far as licensing is concerned, most states require you to be licensed, so you will have to eventually enroll in an accredited training program, take the examination, and complete the required training hours.
Nonetheless, you can start learning how to become a nail technician on your own for experience, skill enhancement and to double check it's something you want to dedicate more time to.
What Do Nail Technicians Do?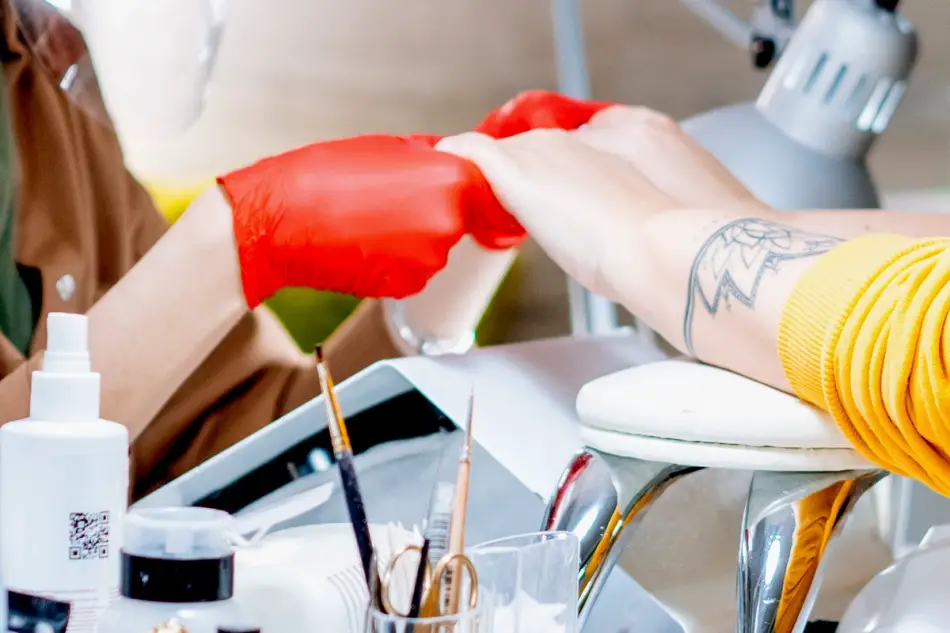 Nail technicians carry out nail care, treatment, and beautification. Nowadays, the profession has expanded beyond polishing fingernails and toenails.
Additional skills such as applying acrylic nails, intricate nail designs, and more extend the opportunities for nail technologists as far as the offered services go. 
Here are the critical responsibilities of nail technicians:

Perform manicure and pedicure treatments
Nail grooming (cleaning, cutting, shaping, and in-grown repair)
Removing previously applied polish 
Provide options for nail color and design (acrylic, gel, 3D, mirror, reverse french, etc.)
Sterilize nail kits, tools, and equipment
Clean the station when there's no customer 
Offer callus removal as well as hand and foot massages
Connect with customers by providing nail treatment tips
Inform the customer of the additional services, discounts, coupons, and loyalty rewards
Build a rapport with customers by knowing their preferences and interests 
-> Read Also What Is An Autodidact?
What Is a Self-Taught Nail Technician?
As the name suggests, self-taught nail technicians are those who have not enrolled in beauty school or taken any courses to learn the profession. 
Instead, they resorted to teaching themselves through real-life observation and studying online resources such as video tutorials, free guides, etc.
Then, practicing the techniques involved on themselves or with other people they know. 
While self-taught technicians first explore the skills by themselves, they must take a state-approved cosmetology program accredited by the National Accrediting Commission of Cosmetology Arts and Sciences (NACCAS) to get a license. 
Nail techs need to be licensed as they handle delicate nail care and treatments that require proper sanitary practices, reducing customers' exposure to potential infections. 
Also, it is imperative to ensure that the nail technician performs manicures and pedicures with zero or the least amount of pain. 
How Can I Teach Myself To Become a Nail Technician?
If you're still unsure whether you want to enroll in beauty school to become a nail technician, you can still start ahead and learn the skills independently. 
Here are the steps you can take to teach yourself the skills and qualities required of a nail technician.
1. Learn About the Nail Industry First
Your interest in doing nails may have started as a hobby, but getting into the biz needs a little prying on what the industry is all about. 
This includes the average salary or hourly rate of a nail technician in your state, places you can work, and specific services which are currently in demand.
For example, if more clients are looking for nail extension services, you should consider learning the necessary skill for the said work. 
By understanding which nail tech roles fit your interest and what the customers look for, you can identify which techniques to learn first. 
2. Connect With Professional Nail Technicians
Anyone serious about becoming a nail technician should understand the power of networking. 
Building a relationship with professional nail technicians gives you access to tips that only come from experience. 
You can bond with manicurists in your favorite salon and ask questions about their work. You can also frequent nail bars, befriend the manicurist, and observe. 
But aside from actively forming a rapport with professionals, you can also follow nail technologists and artists online.
Connect with them through social media or business pages.  
You can learn a lot from people already in the trade. Check out this video from Vee Nailedit where she shares a list of what she knew before she became a nail tech:
3. Know the Necessary Skills for the Job
To become a sought-after nail technician or at least a good one, you must be equipped not just with the technical skills but with the soft skills as well. 
It's no secret that manicures and pedicures require creativity and attention to detail. You also need to have good hand-eye coordination and awareness to execute proper sanitation and sterilization. 
However, you also need to understand that becoming a nail-technician means you have to gain the right people skills.
This includes capacities to carry out a decent conversation with your client, persuasion, courtesy, tactfulness, empathy, patience, and friendliness. 
You can learn hard skills by watching tutorials online or observing a professional nail technician.
But for soft skills, you need to have the willpower to go outside your comfort zone if you're not a people person.
Nevertheless, with practice, you can develop these skills in no time. 
4. Get the Nail Kit You Need
The tools and equipment used by nail techs may vary based on the types of services they offer. However, there are nail kit supplies that all nail technologists and artists must have regardless of what they do.
These are the following:
Buffers 
Nail file
Nippers 
Nail clippers
Emery board
Practice hand
Cuticle pusher
Hand sanitizer
Manicure bowl
Toe separators 
Cuticle softeners
Enhancement kits
Nail systems (acrylic, dip, and gel)
Soak-off solutions and nail polish remover
5. Practice Consistently
You can master the art of nail design and groom with consistent practice. Start applying techniques on nail training practice hands you can buy online. 
Work with your art using standard nail polish. Eventually, more to more intricate work such as acrylic nail application.
You can also do your own nails if you're confident enough to work on real ones. 
-> Learn More about Self-Learning vs. Classroom Learning: Which Is Better?
Frequently Asked Questions
Do You Need To Be Qualified To Do Acrylic Nails?
Professional nail technicians who do acrylic nails don't need high-level qualifications apart from training and licensing. 
Even with the licensure requirements, the qualifications are pretty simple such as a high school diploma, program completion, and training hours. 
Unlike other services related to nail beautification, acrylic nails can be tricky to apply.
As a result, you may need the proper training to learn how to use the chemicals involved safely and implement the proper techniques, such as those applied for the tips and extensions. 
This is why most salons will only allow nail technicians who have gone through professional programs involving acrylic nails to do the service. 
Is It Hard To Learn How To Do Nails?
Mastering nail art and care can be easy if you have the interest and willpower to learn the work involved. Otherwise, the process can be difficult to absorb and apply.
Also, having a complete set of nail kit supplies will make learning how to do nails more efficient and simpler. 
-> Learn more about the 7 best websites for self-learning
Final Thoughts 
Back in the day, manicurists didn't require formal training to do nails.
While you can still become a self-taught nail technician today, the advancement in the medical aspect involved in nail care requires you to secure a license if you want to make a living as a nail tech.
This way, you guarantee professional practices that keep the client safe and satisfied and you will find it much easier to find work.