Have you ever watched in awe as snowboarders slide down snowy hills using the snowboard?
You probably even have it on your 40 things to do before you turn 40. Now, the question is – how easy is it to self teach snowboarding?
While teaching yourself to snowboard is possible, it is difficult. We've found that prior skiing or skateboarding experience makes picking up snowboarding techniques easier. However, newbies with no previous skating or skiing knowledge will find it harder to teach themselves how to snowboard.
While we advise that an activity like snowboarding requires the supervision of a professional, we understand that there are people who can teach themselves to snowboard with the right resources and gear. 
This is why we've put together this piece on teaching yourself how to snowboard. 
Popular Mistakes Self-Taught Snowboarders Make
As stated earlier, while teaching yourself to snowboard is possible, it requires much practice and skill.
Here are mistakes self-taught snowboarders make and ways to fix them.
-> Read Also What Is An Autodidact?
Misinterpreting Techniques
When teaching yourself to snowboard, the tendency you are misinterpreting a technique is quite high.
The major issue with misinterpreting techniques is that you are at increased risk of sustaining injuries that you can avoid.
Additionally, a wrong stance will make you look funny or make the learning process uncomfortable.
Here are six of the most popular misinterpreted techniques and how to get them right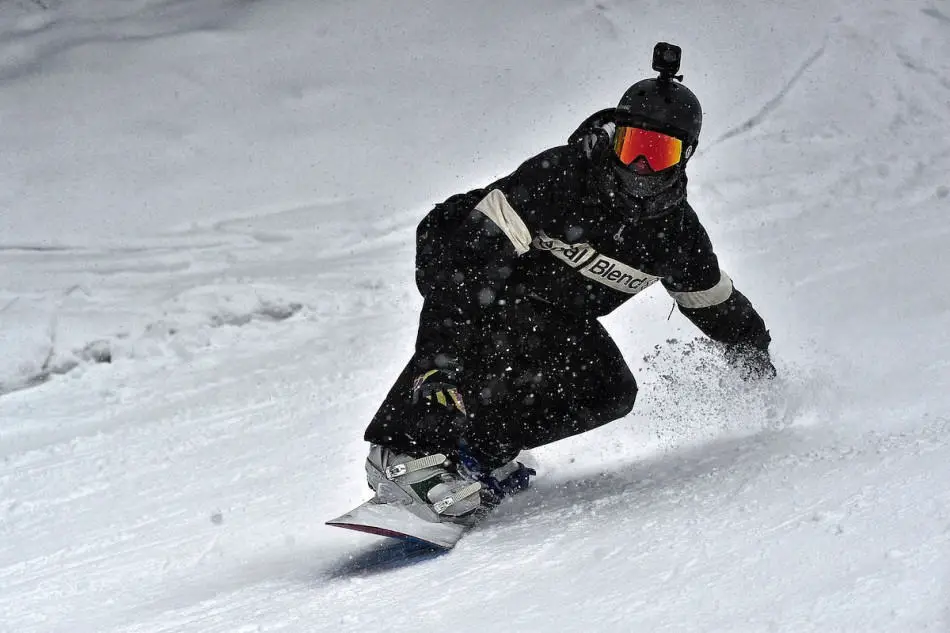 The Rotation Technique
One mistake common with many self-taught snowboarders is leaving the rotating to the board when it depends on the rider and how the rider positions the body. When the body is not properly aligned, the chances of falling and getting hurt are higher.
The Knee Bend
Often, beginners have difficulty grasping just how low they should go when bending the knee. As a result, many make the mistake of doing full squats; this is harmful and could lead to injuries when landing.
Snowboarders need only to bend the knee slightly. It should be enough to create a balance as they take turns and land while snowboarding.
Visualizing
One important technique to remember is to visualize where you are headed. Beginners often make the rookie mistake of focusing on the snowboard when they should focus on the direction.
Snow Fall
While you should be aware that falling while learning to snowboard is unavoidable, you must be mindful that you can control the direction of the fall. 
When you notice you might fall, beginners can wrap their arms very close to their chest with their legs bent to limit the impact.
Another wise way will be to fall on your butt; this way, you can avoid any serious injury.
The Front Hand Support
Learning to turn in snowboarding is another crucial skill, but we've seen many beginners make mistakes.
One common mistake is leaning too much on the back foot while trying to make a turn, which will result in a fall.
To avoid this mistake, put your hand forward in front of your snowboard and close to the snow. This way, your weight pushes you forward and helps with balance as you turn so you don't fall.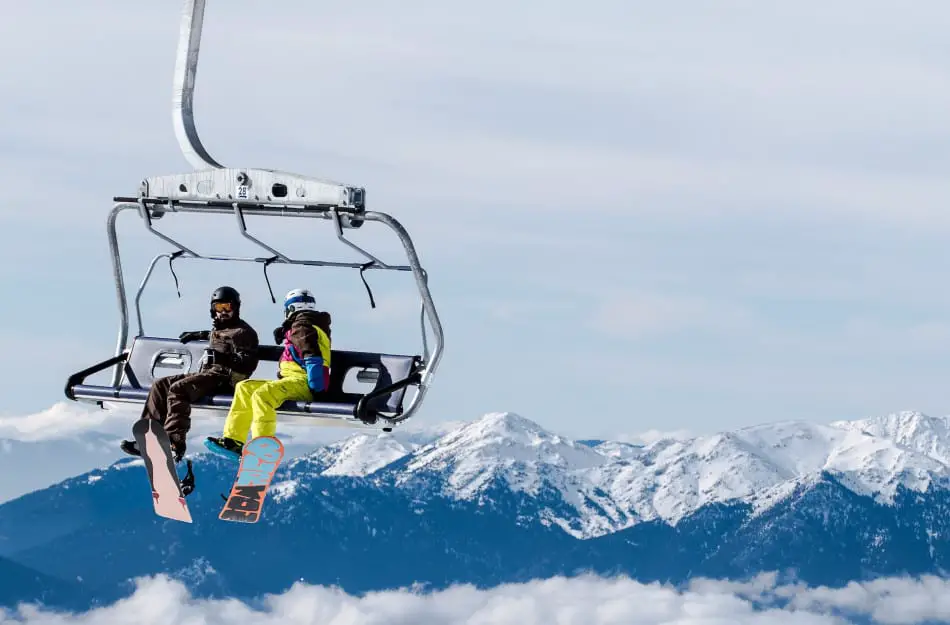 Air Seats
You cannot neglect the possibility of encountering little bumps in the snow. Unfortunately, many beginners fall when they don't properly prepare for these bumps. 
This is because rookie snowboarders try to avoid bumps by standing tall, forgetting that snowboarding differs from walking.
The best way to prevent these bumps in the snow from causing you to fall is by pretending you are seated with your back straight and legs bent.
This helps position the snowboard so that it can make these snow bumps flatten without making you fall.
You can check this video below to check how to correct these common mistakes.
The Strapping Mistake
You will be surprised to find that newbies and many acclaimed self-taught snowboarders make the mistake of strapping while standing. 
While strapping, you should not be on your feet; instead, sit and strap. This move prevents you from losing balance and falling.
Check out this video on strapping your snowboard the right way.
Getting the Wrong Training Gear and Clothing
While trying to teach yourself to snowboard, getting the right kit might be more difficult than you would imagine.
As a novice, some snowboards are specially designed to make the learning process easier for you. However, imagine starting with a heavy snowboard or boot; this can be quite uncomfortable. 
To avoid this, we advise that you keep the kits simple and comfortable. Additionally, opt for base clothing that will keep you dry, mid-section clothing to keep you warm, and an outer suit that will prevent moisture from being absorbed.
Absence of Prior Knowledge
You cannot expect to get on the snow with your gear and start snowboarding without prior knowledge or experience in a similar sport.
As stated earlier, starting with either skateboarding or skiing will aid your transition to the snowboarding scene.
Lacking the Right Attitude
Many forget that snowboarding is not all about skills and techniques; having the right attitude will also go a long way.
It is easy to read and assimilate all that you need to know about how to snowboard. However, the real work lies in getting on the snow with a positive mindset.
Being in a Rush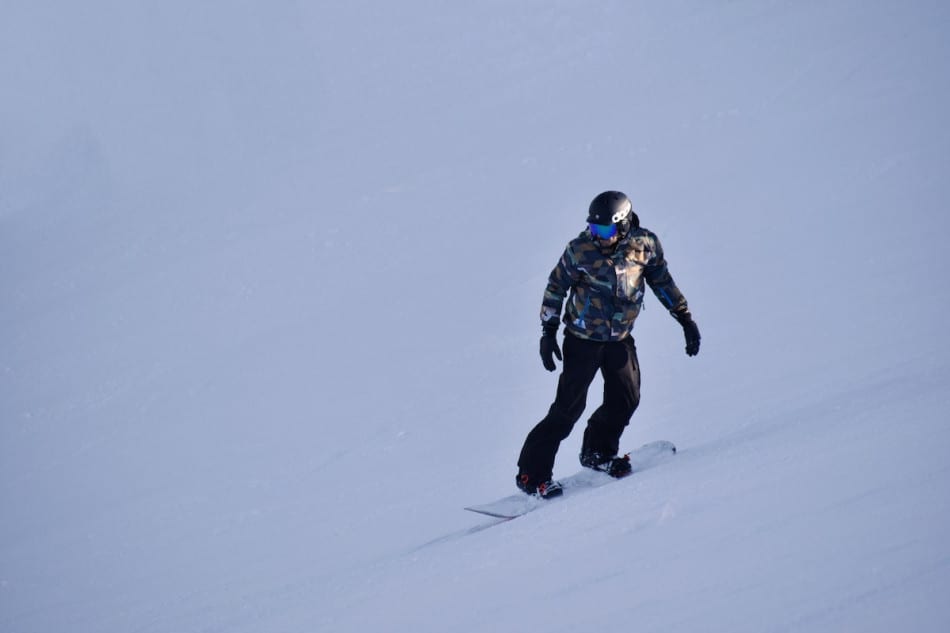 We understand the excitement you must feel when you finally get on the snow. We know you cannot wait to show off the skills you have learned; however, this is the first mistake many self-taught snowboarders tend to make.
When you get on the snow, it is wise to take it all in, study the environment and understand the paths set for you before making any move.
This move will help you get acquainted with the surroundings allowing you to do better when you start snowboarding.
Being Alone on The Snow
As a snowboarder, especially a beginner, it is advisable to go out with someone you trust who knows you are teaching yourself to snowboard.
This way, while you teach yourself how to snowboard.
-> Learn More about Self-Learning vs. Classroom Learning: Which Is Better?
3 Steps to Teach Yourself Snowboarding
No skill is impossible to learn, especially since you have us lay out the proper steps for you. Therefore, you should carefully examine these steps before you get started on teaching yourself how to snowboard.
Step 1: Get Familiar with the Concept of Snowboarding 
Before you get on the snow, it is wise to understand first what it means to snowboard and learn all you can about it before getting on the snow.
We've categorized the necessary styles you need to know into two; recreational and competitive. This way you can easily decide which styles suit you.
| | |
| --- | --- |
| Recreational Styles | Competitive Styles |
| Jibbing | Alpine Snowboarding |
| Freeriding | Slopestyle |
| Freestyle  | Snowboard Racing |
| | Big Air |
Table Adapted from Wiki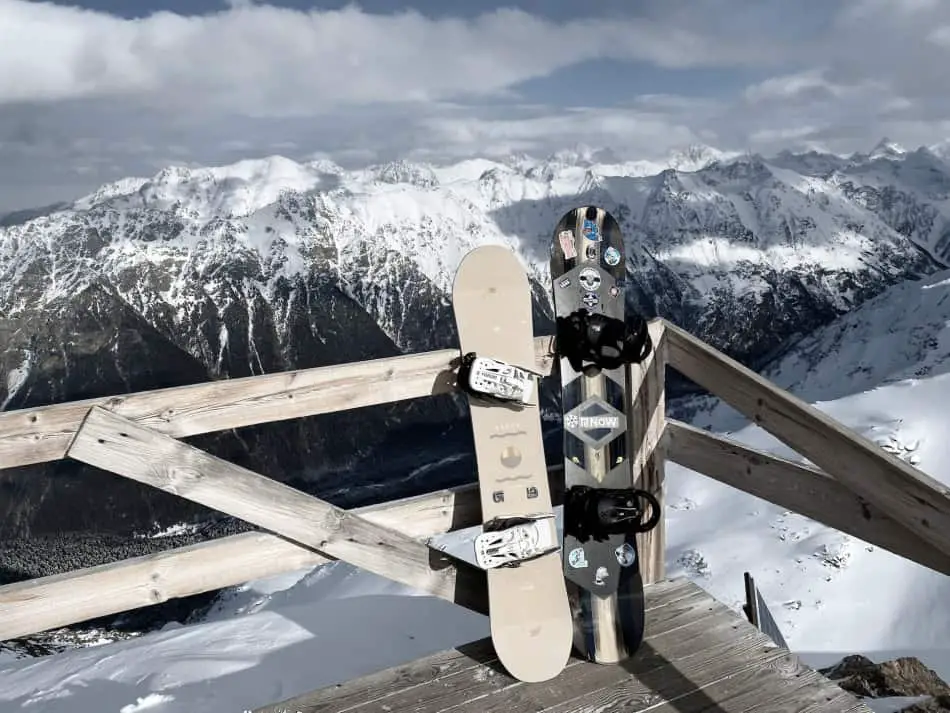 Step 2: Source for the Required Equipment
These are some of the necessary equipment you need when trying to learn snowboarding.
Step 3: Learn How to Snowboard
While we recommend reaching out to a professional, here are some instructional materials you can use to teach yourself how to snowboard.
Instructional Videos on Snowboarding
YouTube has tons of free-to-teach yourself to snowboard videos. These videos vary from novice to professional levels, so you must find the best suited videos for you.
If you start with the professional videos, you will miss the basics and get confused, so begin with introductory videos.
Here are links to useful free online videos.
Online Snowboard Classes
There are several classes online for those interested in learning how to snowboard; the best part is that a qualified or trained personnel will be the instructor.
Snowboarding Books
You can get beginner books that explain the techniques behind snowboarding. These books explain in detail all a beginner should know before practicing tricks and techniques on the snow.
Some beneficial books you can read include:
-> Learn more about the 7 best websites for self-learning
We've found that books are usually more personal, and you can always refer back to them for anything if you feel you have missed a step.
Frequently Asked Questions (FAQs)
Here are some of the most asked questions concerning snowboarding:
Q: Is Snowboarding an Olympic Sport?
Yes, the men's and women's snowboarding games were introduced in the Olympics in 1998 at the Nagano Games.
Q: Is Snowboarding the Same as Skiing?
These two sports are quite similar. The significant difference is that while skiing involves using a pair of skis to navigate through snow, snowboarding uses a snowboard attached to boots.
Q: Is Snowboarding Dangerous?
Some tricks are dangerous to do while snowboarding. While a professional can control the trick, a beginner might get injured.
Final Thoughts
As you must have now realized, teaching yourself to snowboard, you must be ready to fall a few times; you should also consult a wide range of resources on proper techniques to aid you and make mastering this sport easier. 
References